1.Augmented Reality Job Search App from Nokia
Have been missing really useful AR applications? Have a look at JobLens – a Windows Phone 8 app that helps users search for jobs near their home. The app uses augmented reality to show the user exactly where the job is in relation to their current location, and display information about the company. It will also access your social media profiles – including LinkedIn, Facebook, Twitter and Windows Live – to check out whether any of your friends are connected with a hiring manager at any available jobs. Finally, JobLens allows easy resume sharing via Microsoft SkyDrive account, and if application is successful, JobLens can provide users with directions to the interview.
Nokia hopes that their app could eventually end up as shaping the future landscape of job hunting – we'll see! To do so Nokia partnered with a start-up incubator Entrepreneur First in London. At an launching event in London, Nokia gave 30 graduates that have recently completed Entrepreneur First's accelerator programme and formed 11 start-ups valued at £15m a detailed overview of the JobLens app, and challenged them to build new businesses.
"We want to challenge these young minds to imagine how JobLens can be enhanced and refined to address UK unemployment, a challenge that unfortunately all too many countries are combating," said Nokia's Bryan Biniak.
URL: http://www.dvice.com/2013-7-28/nokia-releases-augmented-reality-job-search
2.Sony Unveils 3D HMD for Endoscopic Surgery
Sony has its 3D head-mounted display on the market since 2011. All previous products were just cool entertainment gadgets for watching movies and playing games. But the new HMD is volunteering to act as the viewing end of medical endoscopes.
Hirai and Co. have just unveiled what amounts to a retooled HMZ-T2, dubbed the HMM-3000MT, which helps surgeons peek inside a patient's body in 2D or 3D – the latter of which is said to improve precision by providing better depth perception.
This new HMD is fitted with 0.7-inch (18.0mm diagonal) OLED panels (1280 x 720) as its sibling, but compared to HMZ-T2 it provides better comfort. It has been designed to provide balance when the user wears it in a standing position, while the cushioning at the forehead and on the top of the head provides comfort even when worn for long periods of time.
URL: http://www.engadget.com/2013/07/23/sony-surgical-3d-head-mounted-display/
3.Google Invests in Himax Display Inc. – the Glass Chipmaker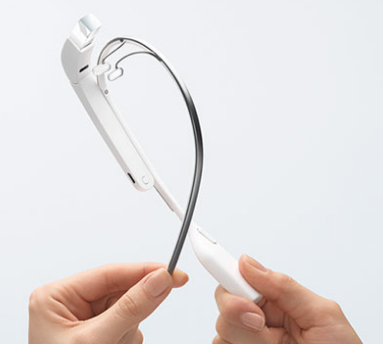 Google Inc. is investing in a Taiwanese microchip maker that makes chips used in its Google Glass. When the deal closes, Google will own a 6.3 percent stake in Taiwan-based Himax Display Inc., (HDI) a subsidiary of Himax Technologies, Inc., though it could own up to 14.8 percent if it exercises the right to make an additional investment after one year. At this point, Himax Technologies owns 81.5 percent of HDI and says it will remain the subsidiary's majority shareholder. Other investors include KPCB Holdings, Khosla Ventures, and Intel Capital Corporation.
Funds from Google will be used to make production upgrades so that HDI can roll out more LCOS chips and modules used in head-mounted displays like Google Glass, heads-up displays (HUD), and pico-projector products.
The deal is expected to close this quarter.
URL: http://www.pcmag.com/article2/0,2817,2422086,00.asp
4.Elements 4D – AR Chemistry Learning Kit by DAQRI
DAQRI has been known for developing augmented reality technology for enterprise applications. The company has also developed applications for the education, medical, and industrial manufacturing sectors. On July 24 DAQRI launched its first consumer-focused product by way of a Kickstarter campaign.
Eleme
nts 4D is an interactive chemistry learning kit that consists of a set of laser-etched wooden blocks illustrating a different chemical element on each and an augmented reality mobile app which utilizes smartphone and tablet cameras to view and interact with the blocks.  Beaming the app's viewfinder onto the blocks instantly transforms them into 3D representations of that element. The app also allows students to combine the elements from the periodic table by putting wooden blocks one next to other to create chemical reactions and new molecules in the virtual space. For example, touch a hydrogen to an oxygen and the viewer will see a chemically correct water molecule displayed on their screen.
For better understanding watch the video on Kickstarter.
URL: http://pandodaily.com/2013/07/24/daqri-elements-4d-kickstarter/
5.Google Glass Vulnerability
Google's ambitious augmented reality glasses have yet to be officially launched to the general public and they have already been hacked. It has been hacked by a relatively low-tech tool: QR codes.
Researchers from Lookout Mobile found out that they could use QR codes to connect Glass to a rogue WiFi network, thereby giving them access to the device's various features and the information that it stores. The QR codes also showed themselves capable of crashing Glass entirely, forcing users to reboot their device before they could use it further. Such QR codes can be placed nearly anywhere (i.e. even t-shirts with these codes could create a problematic issue for Glass users).
According to the leading security firm Symantec Google's Glass is also susceptible to attacks that are not based on QR codes. Symantec notes that Glass could be compromised through the names attributed to WiFi networks. Fo example, a user may set his preferred network as he has at home.This means that user's device will try to connect to this network no matter where it is. A hacker can easily respond to the probes sent out by the device to find its preferred network by posing as the network and offering WiFi connectivity. Once connected, the hacker has access to the glasses.
Lookout Mobile as well as Symantec immediately reported their findings to Google in order to help the company develop some security features.
URL: http://www.qrcodepress.com/googles-augmented-reality-glasses-have-more-to-fear-than-just-qr-codes/8522284/
 AR applications:
Prepared by:
AR23D Studio
3D Augmented Reality Solutions