1) Tesco launching augmented reality dressing rooms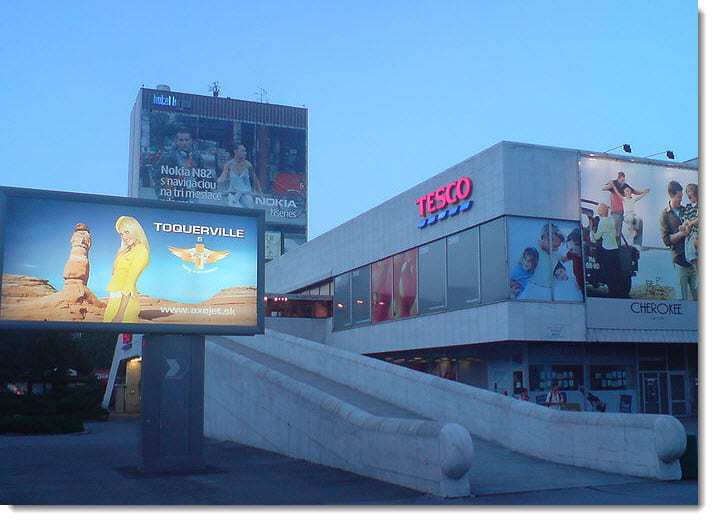 United Kingdom retail giant Tesco has launched a new initiative that will make use of augmented reality to engage consumers. The retailer will be introducing its augmented reality venture in three of its UK stores, hoping to create a multi-channel shopping experience for consumers that are interested in the company's F&F clothing line.
Tesco will be using large screens equipped with camera and image recognition software to create "magical" mirrors. Consumers will be able to interact with these mirrors by means of augmented reality technology. When a consumer engages these mirrors, they have the option to browse a wide variety of clothing and try these clothes on, in a digital sense. Augmented reality is used to superimpose these articles of clothing over a consumers "reflection," thereby giving them an idea of how they will look with that particular piece.
The other innovation Tesco is going to introduce in its stores is digital mannequin. The mannequin will have a physical representation in the world, but will be animated through a variety of AR holograms. The figure will be able to interact with its surroundings and will be given some personality through recorded audio to engage consumers and get their attention as they browse Tesco stores.
URL: http://www.qrcodepress.com/tesco-embraces-augmented-reality-with-new-venture/8516613/
2) AR technology brings back depth perception to individuals with single eye blindness
Being able to judge three dimensional distances has, until now, been a capability that has been limited to individuals who have two functioning eyes. This helps people to be able to judge the distance between two objects. For example, it allows you to judge the distance from your fork to your plate, or from the front of your car to the truck in front of you in traffic. When one eye functions, that binocular depth perception is lost.
A team in Japan's University of Yamanashi has now constructed the device that artificially produces a depth perception feeling in the healthy eye of the wearer. It was achieved by implementing new software into augmented reality goggles. The researchers, led by Xiaoyang Mao, used a pair of commercially available traditional 3D glasses (Wrap 920AR by Vuzix)
When the glasses are worn, the cameras are able to capture what would be seen by each eye. Those images are transmitted to a computer, which combins the perspective provided by both of the cameras, in order to produce a "defocus" effect. This way, some objects remain crisply focused while others have less focus applied, thereby generating a perception of depth. This final image is projected into the wearer's working eye.
URL: http://www.qrcodepress.com/augmented-reality-glasses-allow-people-blind-in-one-eye-to-experience-binocular-vision/8516626/
3) GestureTek create augmented reality experience for Disney's Perry the Platy bus tour
Disney arranged bus tour around America to celebrate animated series and the movie Phineas and Ferb: Across the 2nd Dimension.  The bus was equipped with custom augmented reality system that works via a video camera connected to a GestureTek computer system.
Disney fans could join the mission to bring Perry back home via augmented reality, and virtually get in the action with Phineas, Ferb and other characters.  The bus toured around America and allowed fans to meet the cast and play lots of games about the show as well as interact with the shows animated characters virtually.
URL: http://www.attractionsmanagement.com/detail1.cfm?subject=product&codeID=304162&pagetype=detail&site=AM&dom=N
4) Computerized Glasses from Verizon
Perhaps the most interesting piece of tech at Verizon booth at CES was a voice-controlled augmented reality headset. For the first time the prototype was introduced last summer at the company's developers conference.
The Golden-i is sort of like the computerized Google Glass headgear which runs a modified version of Android and supports Verizon's 3G/4G/LTE network so it can be used anywhere.
Besides high speed mobile internet, the Golden-i packs in a whopping 14-megapixel camera and a gesture control so the image moves around as you move your head. It has voice assistant that works similarly to Siri or Google Now. Users can speak functions like "open photos" and the photo app will open. You can also dictate zoom and other basic functions.
The Verizon tells that the Golden-i would be great for emergency response professionals or construction workers but they will also be available for the average consumer.
Software developer kit will be available in about six months, but the headset itself won't be out for at least another year.
URL: http://www.businessinsider.com/golden-i-verizon-augmented-reality-headset-2013-1
5) New update of Nokia City Lens brings new useful features to the app
Nokia has released an update to the hugely popular augmented reality app Nokia City Lens for both Windows Phone 8 and Windows Phone 7.5. So, whether you own the new Nokia Lumia 920 or the older Nokia Lumia 800 classic, you'll find 3D mapping just got much more enjoyable and easier.
The following features added to the beta version of Nokia City Lens back in November 2012 have now become a regular part of the app.
Sightline – see just what's in front of you. Seeing all the places nearby, which City Lens normally shows you, may be a lot to take in, especially in crowded areas. Sightline feature lets you switch your view to only what's in your direct line of sight, making it easier to spot great places that are right in front of you.
Quick info – get information while you look. Just tap to view the information overlaid on your display while you keep scanning. Another tap pulls up its complete information.
Pause your view – it's not comfortable to keep your phone pointed at the target all the time in camera view. You can now freeze your view and study your options and browse the scene more comfortably.
Pin categories to start – now you can quickly access your favorite searches with a tap by pinning individual categories to your home screen.  Wherever you are, you can instantly find what you love.
Create Rich Live Tiles – wherever you are, live tiles with your favorite searches on your home screen now show you the closest options without having to launch the app. Just glance and go. Or tap to see what else is nearby.
URL: http://www.noknok.tv/2013/01/29/nokia-city-lens-update-brings-sightline-and-freeze-functions-to-augmented-reality-app-to-windows-phone-8/
6) Augmented reality headset from startup Meta
Meta is working on augmented reality headset which goes one step further than Project Glass, putting a full twin-display digital environment in front of the user, rather than floating notifications and prompts in the corner of their eye.
According to Noah Zerkin – who had the chance to play with a Meta dev-kit – both components feed into custom electronics in a separate box, and which can currently track individual fingertips and overlay glowing dots over them in real-time, similar to what's shown in Meta's concept video.
The prototype headset consists of an Epson Moverio BT-100 with a low-latency 3D camera mounted on top. Meta isn't just using off-the-shelf Moverio headsets, either. The company has inked a deal with Epson to collaborate on augmented reality technologies.
Epson's existing headset runs for up to six hours, though that's using a wired remote control unit with a battery pack, so Meta and Epson are looking to replace the LCD screens in the existing Moverio with OLED panels from providers such as MicroOLED; that should introduce improvements in both visibility and power consumption.
According to the initial promo video the new headset is being positioned as an ideal accessory for the web-obsessed social media user. News articles can be browsed by sweeping through, and then grabbing, preview bubbles floating in mid-air, webpages can be overlaid over elements of real world and physical "thumbs-up" motion can "Like" a Facebook post.
URL: http://www.slashgear.com/meta-plans-true-augmented-reality-with-epson-powered-wearable-28266900/
7) Indonesian Movie 3Sum Uses Augmented Reality for Promo Stunt
Indonesia hasn't seen many augmented reality technologies being developed or used for promoting different products so the app by AR&Co  is touted as the first use of augmented reality (AR) technology to promote an Indonesian movie.  AR&Co  created an augmented reality Android app solely to help promote an Indonesian movie called 3Sum.
Though the name might conjure up certain images for several people, the movie doesn't revolve around a sexual theme. 3Sum is an omnibus movie that combines three short films made by three different directors – Andri Cung, William Chandra, and Witra Asliga. The movies embrace three different genres: thriller, drama, and action.
The augmented reality app can be downloaded for free from Google Play and can be used together with 3Sum promotional items like its movie posters, banners, T-shirts, and premiere gala invitations. The latter two are exclusive items, whereas the former two can be found in nearby theatres.
AR&Co plans to expand to Kuala Lumpur this year after previously opening offices in Singapore, Myanmar, London, and Barcelona. And they are also planning to launch a gaming theme park soon.
URL: http://sg.finance.yahoo.com/news/indonesian-movie-3sum-uses-augmented-101101962.html
New AR applications:
Prepared by:
AR23D Studio
3D Augmented Reality Solutions